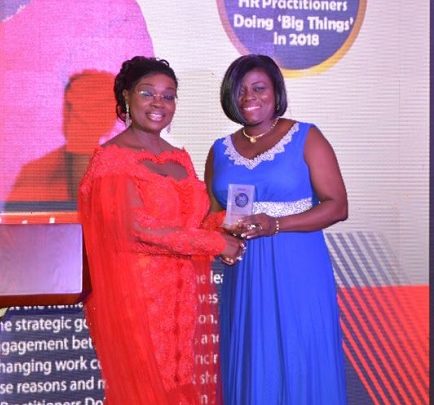 The Head of Human Resource for the Food and Drugs Authority(FDA) was honored with an award as one of the top 40 Human Resource(HR) practitioners 'doing big things' in 2018 at the just ended HR Focus Awards held at the Tang Palace Hotel in Accra on the 20th of September 2018.
Mrs. Mary Mintah has been a strategic business partner to the leadership team of the FDA, ensuring that the human resource initiatives are completely aligned to the strategic goals of the institution. She has ensured rigorous engagement between employees and the management thereby changing the work culture and enhancing productivity.
The HR Focus Magazine put together the event to celebrate top 40 HR practitioners with over 10years experience at their various roles. This was after a technical team was tasked to evaluate their respective work over the period; looking into how they are developing a strong employer brand, demonstrating a strong focus on developing of people in the organization, playing a major role in change management programs, developing HR within and outside of their organizations and other considerations.
The Event was well attended by top HR practitioners and other key industry players in Corporate Ghana. Notably amongst them were Mrs. Ellen Hagan, CEO of Laine Service Limited, Dr Esi Ansah, CEO and Founding Partner Axis Human Capital Limited, Mrs. Delese Darko, CEO, FDA, Head of HR, ECG, Head of HR, Vodafone Ghana, Head of HR, Jospong Group and a host of others.