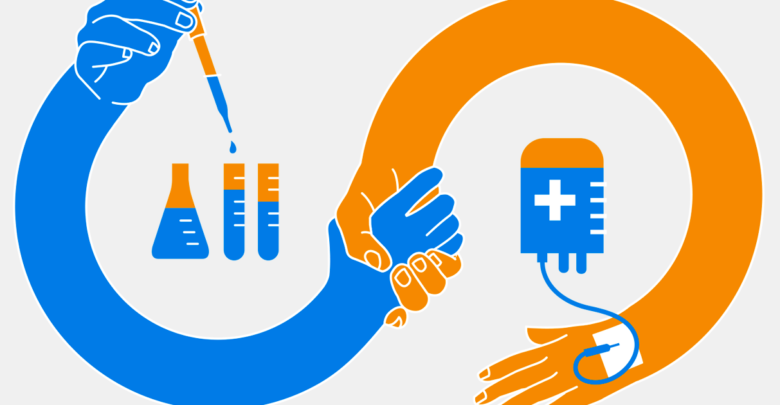 Clinical trials is a household name in biomedical research. Biomedical research is the broad area of science that looks for ways to prevent and treat diseases that cause illness and death in people and in animals according to States United for Biomedical Research.   
Many biomedical research end up in a clinical trial because almost all such research are focused on finding new therapeutic agents or improving existing ones. For instance, biomedical research in complex diseases such as Alzheimer's disease have focused on finding genetic factors which make individuals more susceptible to developing such diseases. This way, new drugs could be developed and such drugs would be more specific to an individual or a particular population. This would improve the effectiveness of treatments of such patients. This is what is termed 'Precision medicine' in biomedical research. When these drugs are developed, more research studies need to be conducted to find out if they are safe before they are approved to be used by humans. Such studies are termed 'Clinical Trials'.
Clinical trials are research studies performed in people that are aimed at evaluating a medical, surgical, or behavioral intervention (National Institute on Aging). Usually such studies are the only ways that scientists and policy makers know that a new drug performs better than a previous drug, or in most cases, whether the new drug is safe to be used in humans. Whenever you go to the pharmacy or drug store to buy any drug, for example paracetamol, note that such drug had to go through clinical trial before it was approved to be used. This shows how important clinical trials are.
Without clinical trials, no drug can be approved to be used by humans.
Usually, such studies follow certain guidelines set by the Food and Drugs Authority. These guidelines ensure that people who volunteer to take part in such studies do not have any adverse effects on their well-being. In order for scientists to develop effective and new therapeutic agents or interventions for diseases and disorders, participation in clinical trials is highly encouraged. Without patronizing clinical trials, it would be very difficult for scientists to implement any new discovery. In countries where people understand the importance of clinical trials, there is always high turn out in clinical trials. However, in societies where the meaning of clinical trial is not well-understood like Ghana, people do not take part in clinical trials. Mostly, the low turn out in such societies is mostly due to the society's culture and also because the concept of clinical trials is largely misunderstood.
At MedCircles Ghana, we believe that everyone in the society needs to play a part in improving healthcare. We have played our role of providing the benefits of clinical trials to you. We encourage that, whenever there is a clinical trial at your locality, you take part if you can. Consider this as your way of contributing to the advancement of human health. Together, we can build a better society with quality healthcare.