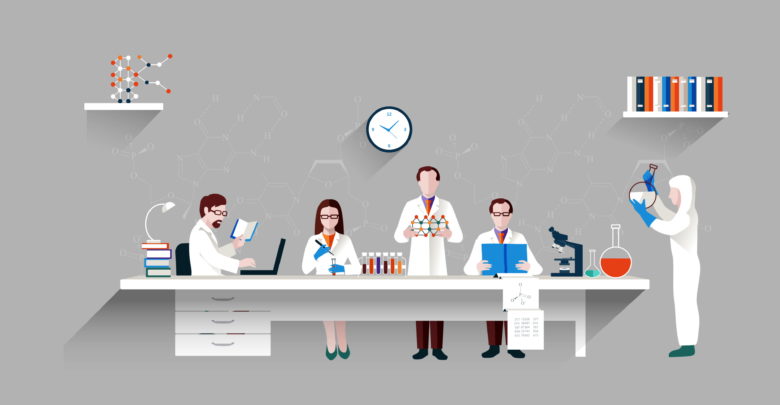 Deep in the bowels of St. Charles Bend a group of health care providers toils each day in near anonymity. They rarely see a patient, and few patients will ever leave the hospital without their help.
"We are a little bit more behind the scenes and a little bit more hidden," said Ellen Kramer, a laboratory scientist at the hospital. "We really are on the front lines, but nobody sees us."
Some 70 percent of medical diagnoses are made on the basis of a lab test. Test results can help doctors determine what's causing a patient's illness and often dictate how to treat it. While it's the doctors and nurses who report the crime, it's often the laboratory scientists who solve the mystery.
Medical laboratory scientists process and analyze biological specimens, perform laboratory tests and procedures, maintain instruments, and match lab findings to specific diseases and illnesses. Without them, doctors couldn't identify infections and choose the proper antibiotic, diagnose diseases or monitor the health and recovery of their patients.
Each of the scientists has their own stories, a rare find, a good catch that is shared with excitement with others in the lab and celebrated as a triumph of science. In 2012, the St. Charles lab identified Yersinia pestis, the bacteria that causes bubonic plague, in a sample sent over from the Redmond hospital. Kramer recalls examining a blood smear and finding spirochetes, corkscrew-shaped bacteria that cause diseases such as syphilis or Lyme disease and are notoriously hard to spot.
They rarely get to see the patient who finally recovers from a mysterious illness all thanks to their work.
Medical laboratories hire two types of specialists to conduct tests. Medical laboratory technicians generally have an associate degree completed through a community college program. Medical laboratory scientists usually have a bachelor's degree from a university. While both can conduct most of the testing done in labs, a bachelor's degree is generally required to advance in supervisory roles.
Within a lab, both scientists and technicians can work in one of several departments. Hematology does testing of blood, urine and spinal fluids. Chemistry tests sodium, potassium, glucose and cholesterol levels; microbiology, bacteria and viruses.
"Every day is a different day and it all depends on your patient load," Kramer said. "Who shows up in the ER is sort of what drives what's happening."
Much of the work in laboratories is now automated. Lab scientists must still ensure the machines are working properly and double-check that any abnormal test results are accurate. Sometimes tests will need to be redone or blood redrawn from patients. If test results do indicate a problem, they must ensure that doctors and nurses know the results.
The lab techs and scientists must maintain the equipment, running quality control tests every day if not multiple times a day to ensure the machines are working properly. They're part chemist and part mechanic.
Lab scientists are so good at their jobs they often know by sight or smell what they'll find before they conduct the test. They don't intentionally try to smell the petri dishes containing the bacterial samples as that could cause them to inhale dangerous germs. Some smells are unavoidable and unmistakable.
"You open those plates every day and when that scent hits you, you know what it is," said Stacey McKinney, a laboratory scientist at St. Charles who works primarily on microbiology tests. "It's like working in a zoo. These are zoo animals and I know what they are on sight. They all have different coats and different smells."
The lab at St. Charles Bend handles all of the routine tests for hospital inpatients as well as those from a number of outpatient clinics in the area. Some infrequent tests must to be sent to other labs. Samples come from patients as far as Prineville, Madras or Burns. The lab performs hundreds of hematology tests and more than a thousand chemistry tests each day. While other hospitals in the region can do some of their own basic testings, only the Bend lab can do microbiology tests.
"It's growing and identifying bacteria out of any part of the body," said Sharon Reams, the laboratory manager at St. Charles. "You're identifying what's not normal flora."
Bacterial samples are grown generally over a two-day period, which then allows the scientists to identify them and test what antibiotics might work. Identifying the particular germs in the petri dish is done using a lot of tricks of the trade. Some samples are obvious just by looking at them. Others needs to be treated with biochemicals or stains to determine what it is.
The scientists don't get information on the patient's symptom, just the site from which the sample was taken.
"We know what typically grows there or doesn't grow there, and we go from there," Reams said. "We use our experience and knowledge that we've gained over the years to go down the (infectious disease) tree in your head."
Despite the importance of laboratory tests, hospitals throughout the country are having difficulty finding technicians and scientists for their labs. Oregon Health & Science University has the only laboratory scientist program in the state, graduating some 40 new scientists each year. Most of those stay in Portland.
The St. Charles lab hosts students from OHSU and Idaho State University, as they do their clinical rotations. Sometimes they can entice a few to return to the area after graduation.
Many will use a laboratory science degree as a stepping stone to medical, nursing or veterinary school. Others find they like the job and stay in it full time.
The St. Charles lab also hosts high school students who are taking health care career classes. It's a good way to figure out who has the stomach for lab work and who does not.
"We've had some students faint during tours," Reams said. "I'll show you my parasite collection."
She wasn't kidding. In a drawer in the lab, she has containers of parasites pulled from patients. She peeled the tape from one container, and pulled out a two-foot long strand of what looked like cooked pasta: a tapeworm acquired abroad by a traveler eating sushi.
"This is why I don't work in micro," Kramer said. "I don't have a stomach of steel, so I'd rather stay out of that."
"Right, but you can handle blood like any body's business," Reams replied.
"Yeah, blood doesn't bother me at all," Kramer said.
Many of the lab scientists feel much more comfortable with blood and than facing patients.
"Most of them are introverts, and that's why they like being behind the scenes," Reams said.
Kramer and McKinney say they don't think they could handle giving bad news to patients, which makes laboratory work the perfect fit.
"I don't think I could ever be a nurse or a doctor and deliver this news to people. I just don't see how they do it," Kramer said. "But to still be part of that team and help figure out what's wrong with these people and call these doctors and nurses, it's just really rewarding to do what we do."
This article first appeared in the The Bulletin. Read the original article here