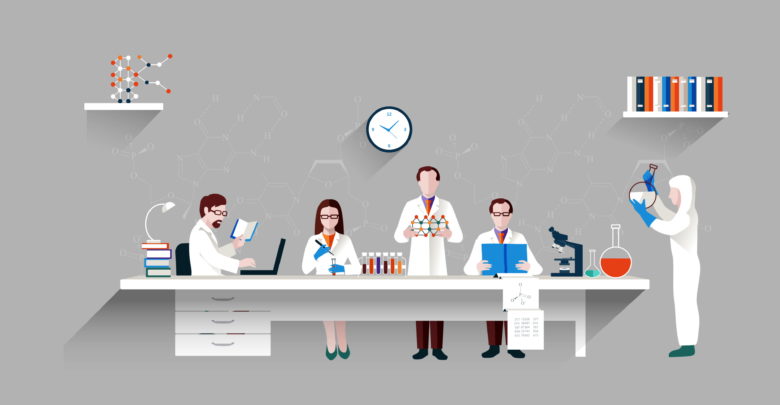 Knowledge is power
The Future Of Possible
Hibs and Ross County fans on final
Tip of the day: That man again
Hibs and Ross County fans on final
Spieth in danger of missing cut
"When I started in laboratory medicine, we were seen as diagnosing disease. That was usually what we did. Most often, we did it from a basement where nobody could come and see us. Now, the laboratory is involved in identifying risk factors and symptoms, evaluating response, and determining appropriate therapy. So laboratory medicine really is being recognized as part of the multidisciplinary team at the heart of patient care.
That's where we should be!"- Dr. Graham Beastall. This is how the international community regards laboratory science and reorganizes it as a critical team member in the health sector.
The sad story
In Ghana however, despite the numerous contributions in the health sector in disease diagnosis, prevention, managements and prognosis, laboratory practice continues to be one of the poorest and ill-fated professions one would want to pursue in Ghana. The laboratory profession continues to suffer from quarks, abuse, and exploitation from other health professionals.
It has been portrayed in the health sector as one of the areas that hosts poor professionals. Professional titles have suffered from the 'alphabet soup' phenomenon as observed internationally and published by Stephanie Noblit also a professional in the United States.
Professionals are popularly referred as Lab Technician or Labman which sounds more demeaning. Even with the shift in global interest on laboratory practice titles, Biomedical Scientists, Medical Laboratory Scientists and Lab Technologists, are used without being streamlined.
Medical laboratories being the chief contributor of moneys used to run the affairs of health facilities, is still the department that is frequently short of reagents, equipment and even consumables. The question is; why can't laboratories be allowed to use the proceeds they generate to sustain themselves? I have argued that even if laboratories are allowed to use 60% of their proceeds to maintain themselves, there will be effective and more standard labs in Ghana.
These challenges compounded with the spontaneous implant of medical doctors as staff and head of medical laboratories, calls for alarm and the entire laboratory fraternity is alert and spinning on its wheels.
This has caused some able and responsible scientists to advocate for a total restructuring of medical labs with new policies and guidelines. This situation from the onset was fiercely resisted by some people.
Last week, a rumour indicated that, the management of Korle-BU Teaching Hospital has passed its ruling on the creation of a directorate for the lab and the removal of medical doctors from the lab. As usual, the verdict said the scientists do not have any point in their plea. This was not surprising since the management is made of absolutely medical doctors and they hold allegiance to their profession. This is exactly what has been happening over the years.
It has happened at the Ministry of Health, at the Ghana Health Service, and in health facilities; where documents for laboratory vanish and policies exist for years without implementation. It is undeniably clear that anything that is not in the interest of medical doctors is discarded. The attitude has not changed and medical doctors continue to play down on our intelligence.
The selfishness and jealousy
'Life is one big road with lots of signs. So when you are riding through the ruts, don't complicate your mind. Flee your hate, mischief and jealousy. Don't burry your thoughts, wake up and live!' This is a magnificent quote from Bob Marley. In a more realistic manner, Robert A. Heintein puts it this way, 'a competent and self-motivated person is incapable of jealousy in anything. Jealousy is invariably a symptom of neurotic insecurity'.
These quotes symbolically reflect the cause of the forever increasing outbreak of 'clinical conflict' between Medical Laboratory Scientists and Medical Doctors and their mother union, the Ghana Medical Association (GMA).
Whiles health professionals like pharmacists, nurses, and other allied health professionals seems to be comfortable and the optometrists continue to break bounds, Biomedical Scientists continue to suffer unprecedented resistance and over-exploitation from the medical fraternity that seems to drain them of job satisfaction and put patients at risk.
It is rather unfortunate to have such a department, the lab, that contributes hugely (financially and clinically) to the health system and still being pushed to the corner by the very people who need its services to be efficient. Medical practice without good laboratory system could equally be dangerous as diabetes, HIV or an outbreak of cholera in Accra.
History has it and I am confident to state that, the numerous challenges with laboratories in Ghana have come about due to the insatiable desire by medical doctors to benefit at all cost from the proceeds of laboratories.
The medical laboratories contribute the highest total financial earnings in health facilities in Ghana. This is where the jealousy comes from. It is clear the medical fraternity fear that when medical laboratories are allowed to operate on their own and managed by the scientists they are not going to benefit anymore.
But they forget that even with their involvement in the past, they did not have any positive impact on the lab. Two years ago, a medical director and a medical doctor, when requested for additional recourses to compliment standardization at the lab said the lab does not need any standardization.
He is quoted to have said 'what is this SLMTA (Strengthening Laboratory Management Towards Accreditation was a program instituted by the CDC-USA to prepare Labs in Africa for ISO accreditation) thing? You have brought this thing; go and get money for it'. What a shame!.
This same man when he was embarrassed at a national gathering that was meant to award labs that have attained ISO-15189:2012 accreditation in Ghana, came back to insult the professionals (scientists) for not doing well. This same ignorant man and the profession he works for, now wants to be permitted to work in the lab to the extent of heading the facility. Where in this world will this be allowed to happen?
Laboratory practice in Ghana has come a long way through to this level by the efforts of some unselfish scientists and not medical doctors. Now, Ghana is one of the countries in Africa that can boost of providing one of the best medical laboratory services.
It currently hosts five government-owned and two private owned ISO accredited laboratories making it first in Africa. Ghana was celebrated in 2013 for hosting five out of the nine state owned ISO laboratories in West Africa. Besides these ISO labs, there are numerous laboratories spread along the length and breadth of the country which function in hospitals, clinics just like strategically positioned private labs. All these achievements are through the efforts of the scientists.
In extreme cases, the likes of Prof Wiredu of Korle-Bu with all his professional allegiance and gymnastics can never be discredited.
However, it is rather unfortunate for the leadership of GMA to have complained that, the lab physicians have taught the scientists over the years and do not know why all of a sudden scientists want them out of the lab. This is really unfortunate. He has forgotten so soon that there are tens of Biomedical Scientists who have taught them and continue to teach them but none of them has complained or suggested to be put in any consulting room.
The likes of Prof A. A. Adjei, Prof F. Aye-Kumi, Dr. Amankwa and many more are Biomedical Scientists who have taught them all over the years but none of them is practicing in any consulting room.
Those so-called lab physicians claim they are there to interpret lab results to clinicians. The question is; why lab physicians join their colleagues at consulting rooms, wards, theatres and others, but rather want to interpret from the lab and how will that be effective? This is also in contradiction to ISO standard in Laboratory practice which rather recommends laboratory professionals to partake in clinical rounds, clinical meetings and to set an advisory team to serve as consultant to clinicians on scientific matters.
Also, the American Society for Clinical Laboratory Science (ASCLS) has established that medical laboratory science is a profession: distinct from the practice of medicine; characterized by its own body of knowledge and scope of practice; which certifies its own practitioners; and requires of its practitioners competency in scientific, technical, managerial and scholarly principles, and high standards of performance and professional conduct.
This shows that their role in the lab is unjustifiable, and can only be described as a conscious effort to impede the progress of the labs and drain the lab them with their reputation and selfishness.
The hard truth
Medical Doctors in my opinion have done worst and are still posing harm to medical laboratories in Ghana and should never be allowed to continue this way. They have headed all health facilities anywhere they find themselves. They have headed any department anywhere they find themselves all these years. They proved that lab professionals don't need much education and it was accepted. They proved that lab professionals don't need much money and it was accepted. The laboratory has been restrained for quite too long and I think enough is enough. The time has come for its breakthrough.
Education has evolved, competences have evolved and there are more scientists to do serve our labs well now. The recent publication of the scope of practice for Medical Laboratory Scientist by the ASCLS provides that medical laboratory scientists must assume their role as members of the inter-professional healthcare team in order to provide the most significant data and scientific information for the attainment of the evidence-based medicine, evidence-based practice, and comparative effectiveness research in modern health care delivery.
The documents and guidelines occupying space at the ministry of health should be put to use. These documents were prepared by a credible organization (the CDC-USA). I want to know if the Ghana College of Physicians and Surgeons is more competent than CDC in the area of laboratory science to impede the implementation of those policies.
When is Ghana going to take its citizens serious? In the absence of these documents, quarks and malpractices are unpreventable and these are detrimental to the health of the ordinary Ghanaian. In the recent outbreak of meningitis as detailed by Maxwell Akonde (www.akondemaxwell.wordpress.com/2016/02/08/meningitis-and-disease-surveillance-the-case-of-medical-diagnostic-services-in-ghana/), the main challenge is the absence of ready and well-equipped labs within the districts for early diagnosis and management and now nearly 100 deaths recorded. Labs are so vital in health delivery and have to be taken seriously.
Laboratory practice as it stands now is a self-motivated profession and scientists like what they do and their place of work. They smile to the blood, the stool and all the nasty but pleasant things they see, smell and touch. When encouraged to function to their highest capacity, it will be in the interest of the patients, the ultimate target for medical practice. It is high time proper policies are put in place in Ghana for laboratories to function effectively and efficiently.
I am your scientist and this is my opinion.
By Kyeremeh Evans